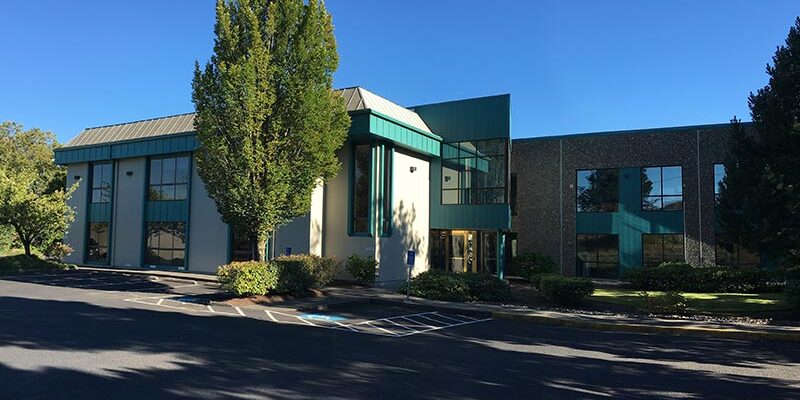 Stoner Electric was created in September 1970 in a home on Hayden Island. After three years, we moved into our first building on SE Division Street in Portland. From there we grew steadily, increasing to twenty employees by 1980. In January 1985, we opened our Controls division to serve the needs of clients in the refrigeration and energy management fields. Due to continued growth, in 1987 we moved to a new location on SE Division Street, only to move again five years later after outgrowing that facility.
The 1990's held many firsts for us. We opened our Lighting Services division in 1993. We completed our first multi-million dollar project: the Metro Washington Park Zoo. In 1998, we purchased Commercial Electric Corp. and opened our Life Safety & Security division.
To enable future growth and expansion, we moved to our current location on Ochoco Street in Milwaukie in June 2000. Our Technology Services division was started in 2002, and by 2005 we had over 150 employees. Today, the Stoner Electric Group employs over 375 talented individuals that are a part of our family.
Stoner Electric Formed
Stoner Electric is started out of a home (on Hayden Island).
Calvin Stoner named President
Calvin Stoner is named President and sole owner. Calvin's son, Dennis Stoner, is named Vice President.
Out of the Garage, Into our First Building
We moved into our first building at: 1115 SE Division, Portland, OR 97202.
New Business Partner - Dennis Stoner
Dennis Stoner becomes a minority owner in Stoner Electric.
Michael Falconer Hired
Future president and owner, Michael Falconer is hired as a material handler.
Dennis Stoner named President
Dennis Stoner is named President and becomes sole owner of Stoner Electric, Inc.
Stoner Electric grows to 20 Employees
By the end of the year in 1980, Stoner Electric had hired it's 20th employee into the family.
Controls Division Established
The Stoner Controls division is established to focus on developing customer needs in the energy management field.
Mark Scott Hired
Future President and owner, Mark Scott is hired as a lighting technician.
Outgrow Old Building, Move Again
We moved to a new location at: 1126 SE Division Street, Portland, OR 97202.
New Vice President: Michael Falconer
Michael Falconer named Vice President.
Outgrow Facility Again, Move Again
After outgrowing our facility, we move to a new location at: 2701 SE Clinton St, Portland, OR  97202.
Neal Rea Hired
Neal Rea is hired as Chief Financial Officer/Controller.
Lighting Services Division Created
Stoner Lighting Services is established as a dedicated division in response to advances in lighting technologies and growing customer needs.
Christine McCarthy Hired
Christine McCarthy is hired as Assistant Controller.
New President & Secretary/Treasurer
• Michael Falconer is named President.
• Neal Rea is named Secretary/Treasurer.
First Multi-Million Dollar Project
We complete our first multi-million dollar project: Metro Washington Park Zoo.
Acquire Another Electrical Company
We purchase our first company: Commercial Electrical Corp.
Protective Systems Division Created
Stoner Protective Systems division is established to meet the life safety/fire alarm and security needs of our customers.
Outgrow Facility Again, Move Again
We move to our current location at: 1904 SE Ochoco St, Milwaukie, OR 97222.
Technology Services Division Created
Stoner Technology Services division is created to focus on our customers' needs in the structured cabling and audio visual markets.
Stoner Employs 150+
We have grown to employ more than 150 employees. 
Longtime Employees Purchase Stoner Electric
• Longtime employees Michael Falconer and Neal Rea purchase Stoner Electric, Inc.
• Christine McCarthy becomes an officer of company: Secretary.
Jon Karp Hired & New Location Opened
• Jon Karp Hired as Operations Manager of Stoner Technology Services.
• Stoner Electric opens a Vancouver location.
First $5+ Million Dollar Project
We complete our first $5+ million dollar project: Government Services Administration Project.
Mark Scott & Jon Karp Named Vice Presidents
• Mark Scott and Jon Karp are named Vice Presidents.
Longtime Employees Purchase Stoner Electric
• Long time employees Mark Scott and Jon Karp purchase Stoner Electric, Inc.
Employees now top 200+
We now employ more than 200 employees and are continuing to grow.
Jon Karp Named President
Jon Karp becomes sole owner and is named President of The Stoner Electric Group
Mission
The people of the Stoner Electric Group are committed to excellence in: timely and efficient delivery of services, quality products and workmanship, personnel, business growth, customer communications, and creating financial opportunities for our customers and employees. By helping others accomplish their goals, we will achieve our own.
People
At the Stoner Electric Group our employees are family. We know that our people are our most valuable asset, and we are committed to their success. We strive to attract, develop and maintain the industry's best employees, while creating a work environment that is conducive to their growth. Our employees are equipped and empowered to provide our clients with exceptional customer service while meeting their highest expectations.
Dedication
Our business is built on trust and relationships, not merely transactions. Our philosophy is to treat our customers fairly and keep them forever. We are committed to always acting with complete honesty and integrity. The Stoner Electric Group is dedicated to understanding our clients' needs and then delivering a superior product at the best value possible. We pride ourselves on giving your project, large or small, our closest personal attention, and we work with you every step of the way, from the earliest planning stages to long after your job is completed.
Quality
We take pride in our work and we believe that the details matter. Quality doesn't happen by accident and we take the time to do it right. The Stoner Electric Group has a well-earned reputation for providing the highest quality of service and workmanship. We will not cut corners and we will not compromise.
Education
Being a premier contractor requires a dedication to continually learning and improving. Ours is a fast moving and always changing industry where new technologies, products and methods are continually being developed. We understand that in order to provide our customers with the best service and end products we must be at the forefront in educating our teams. This is why the Stoner Electric Group employs a highly trained workforce, and we are committed to investing the time and resources to ensure that we are among the most knowledgeable in this industry. By providing educational tools that include training conferences, annual continuing education classes, manufacturer product training, and professional and personal development classes, we believe that our staff is among the most qualified in our field.
Safety
We believe that safety is an investment, not a cost. The job of ensuring a safe work environment is everyone's first responsibility and every employee is empowered to identify and address any safety concerns. We are committed and proven leaders at the forefront in safety training and maintaining safe working practices. Read more on Safety here.
At the Stoner Electric Group, we take a proactive approach to safety by making it part of our culture. Our demonstrated safety record has earned us an impressive EMR (Experience Modification Rate) that is among the lowest in the industry. This achievement is the result of our employees and management working together to provide a safe working environment and recognizing that each one of us has a responsibility to identify and fix unsafe practices and hazards when they are found.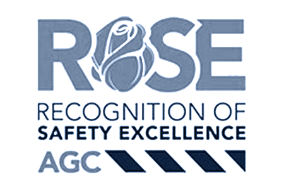 Our receipt of the 2016 ROSE Award (Recognition of Safety Excellence) from the Oregon Columbia Chapter of the Associated General Contractors for 2nd place in the specialty category further solidifies our position as an industry recognized leader in safety. The ROSE Award recognizes leaders in safety excellence and requires extensive verification and documentation of achievements. The judging panel stated that they were "impressed by the level of commitment to safety exhibited and found the Stoner Electric Group deserving of this prestigious award".
In another testament to our constant pursuit of leadership in safety, we were awarded the AGC Safety PRIDE Award (Program Recognition Indicating Dedication & Excellence) in both 2017 & 2018. Only the best of the best receive this honor and the vetting process is extensive – only after meeting stringent criteria is a contractor eligible to apply, and the process involves thorough written and on-site audits of the complete safety program as well as multiple jobsite inspections by several auditors. The stated purpose of this award is to "recognize members who are willing to continuously improve and who are innovative industry leaders in safety". Less than 2% of applicants are awarded this honor and The Stoner Electric Group is proud to be a member of this elite group.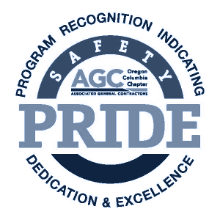 In recognizing that working safely requires that our people are equipped with the right knowledge, the Stoner Electric Group actively invests in the proper equipping and training of our employees. All of the Stoner Electric Group's Project Managers, Superintendents, General Foremen, and Foremen have completed OSHA 30 Safety Training and are kept current in their First Aid and CPR certifications. Additionally, we keep all of our employees up to date with the latest guidelines and "BKMs" (Best Known Methods) through the knowledge and training of our safety director who is an OSHA and First Aid/CPR certified instructor, NFPA 70E qualified and holds many Competent Person Qualifications that allow us to train in house for hazards that include fall protection, confined spaces, energized work, asbestos, lead and many others.
Safety Partners/Forums that we actively participate in include: Portland/Vancouver Construction Safety Summit (CSS), AGC Safety & Health Council, Oregon OSHA Construction Advisory Committee, IBEW 48 Safety Manager Caucus, IBEW 280 Safety Committee, Safebuild Alliance and the NECA/IBEW Joint Safety Committee.
We are a full-service electrical contracting company. Our clients hire us for everything from design-build to communications to 24/7/365 Emergency Support.
At the Stoner Electric Group, we recognize that we carry a responsibility to provide energy efficient design and utilize sustainable construction practices. We are experienced and qualified in providing design build services for LEED, Living Building Challenge and Green Globes accredited projects.
Through the design, installation, programming and proper commissioning of building management systems, intelligent lighting controls, energy efficient lighting and alternative energy systems we are able to ensure that your project is environmentally and fiscally responsible. We can provide an energy audit and a life cycle cost analysis so that you can accurately determine the potential savings for your project. We will help you determine if your project can qualify for Energy Trust Rebate programs, and will assist with all of the required applications and forms. Through proper management and recycling of job site waste we are able to further reduce the environmental impact of a project. By providing computers and mobile devices equipped with the appropriate programs at our job sites we are able to provide all of the latest drawings and documents to the field without generating unnecessary waste and all internal forms can be submitted electronically.
Our commitment to sustainability does not end at the job site – at our warehouses we thoroughly sort all "waste" so that we are able maximize re-use and recycling, a PV solar array on the roof of our headquarters building and LED lighting systems help to offset our energy use and an economical fleet that includes PZEV and ZEV vehicles further reduces environmental impacts. In our offices we have implemented the latest business systems and document control applications to minimize the use of paper and we have a comprehensive recycling and composting program in place.
Average Years of Experience/Employee
Employees Here for Ten Years or Longer